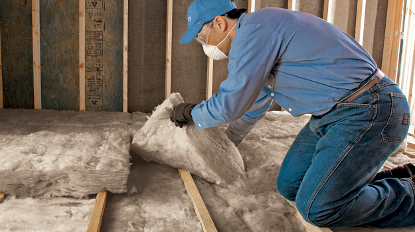 Courtesy-bluedesigns
Before we speak about the difference between glass wool and rock wool, we need to know what the two are made out of.
Glass wool is mainly made out of binding glass and fiber particles together with the help of special binding materials and under high pressure. You must already be knowing that they come in forms of either slabs, sheets, or rolls.
Rock wool is made from basalt rocks and slag that's recycled from the steel industry. The process is fueled by coke which is a form of coal. The rock and steel slags are melted into the lava in a furnace. Then there's a spinning machine that whips the lava into thin strands of rock wool, a similar process to making cotton candy, and even glass wool.
Some of the few noticeable differences between these two are that glass wool is mostly yellow in color. It also comes in pink color but that's quite rare. Rock wool, on the other hand, is brown and grey in color as it's made up of rocks.
Density is another difference. Glass wool is a less dense material compared to Rockwool so it's also possible to make it in different shapes such as sheets, batts, and rolls. Rock wool, on the other hand, is quite dense and so is only manufactured in shapes of slabs. It's quite rigid compared to glass wool
Last but not the least is application. Glass wool has multiple applications, it's used in buildings, offices, houses, sheds, around ac shafts, etc. and is quite commonly used. Whereas rock wool has more applications for industrial uses such as turbines, furnaces, boilers, etc.
Not just this but there's a lot more you can learn about glass wool insulation material and other kinds of insulators on the internet.